Portugal – the home of some of the worlds best golf courses. To play golf on the stunning Algarve coastline is an experience like no other. Let us introduce you to eight amazing courses in Portugal, a long with a couple of tips on where to eat nearby each course.
1. Vale do Lobo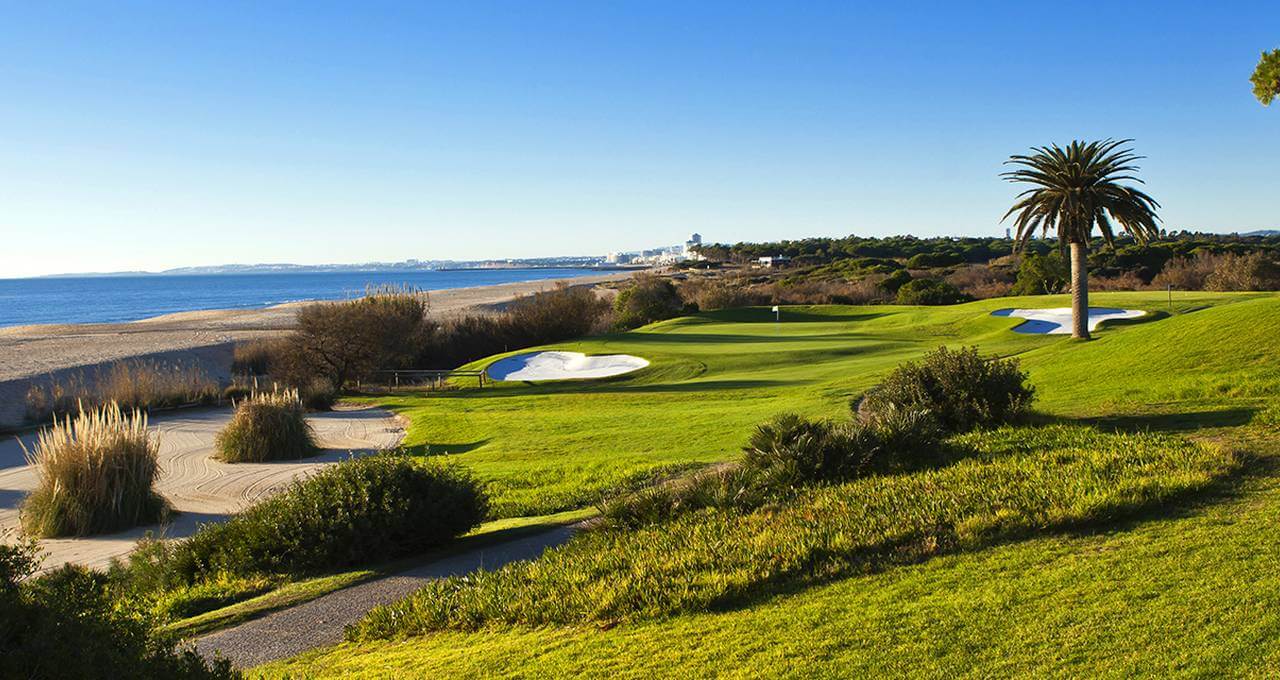 With the two Parkland courses Ocean Course and Royal Course, designed by Sir Henry Cotton and Rocky Roquemore, Vale do Lobo truly offers luxury and challenges for golfers all over the world. These two 18-hole championship courses are home to some of the most iconic holes and golfing view to be found.
Book tee times: https://greenfee365.com/golf-course/vale-do-lobo-ocean-course & https://greenfee365.com/golf-course/vale-do-lobo-royal-course
Where to eat in the nearby area?
Sao Gabriel – This award winning restaurant is located at Av. Alm. Mendes Cabeçadas and they serve creative flavors inspired by the tradition of Algarve. The atmosphere is familiar and cozy.
Monica's Restaurant – Located just outside the entrance of Vale do Lobo, at Monica's you can enjoy an exquisite and varied menu. The restaurant is further complemented by a pleasant garden, a rustic terrace and a lovely dining room designed to make you feel at home. Here you can enjoy meat dishes, tapas or fish with a good selection of different wines.
And of course you can find a selection of good restaurants by the beach such as Maria's restaurant, 2 Passos and Sandbanks Beach restaurant.
2. Espiche Golf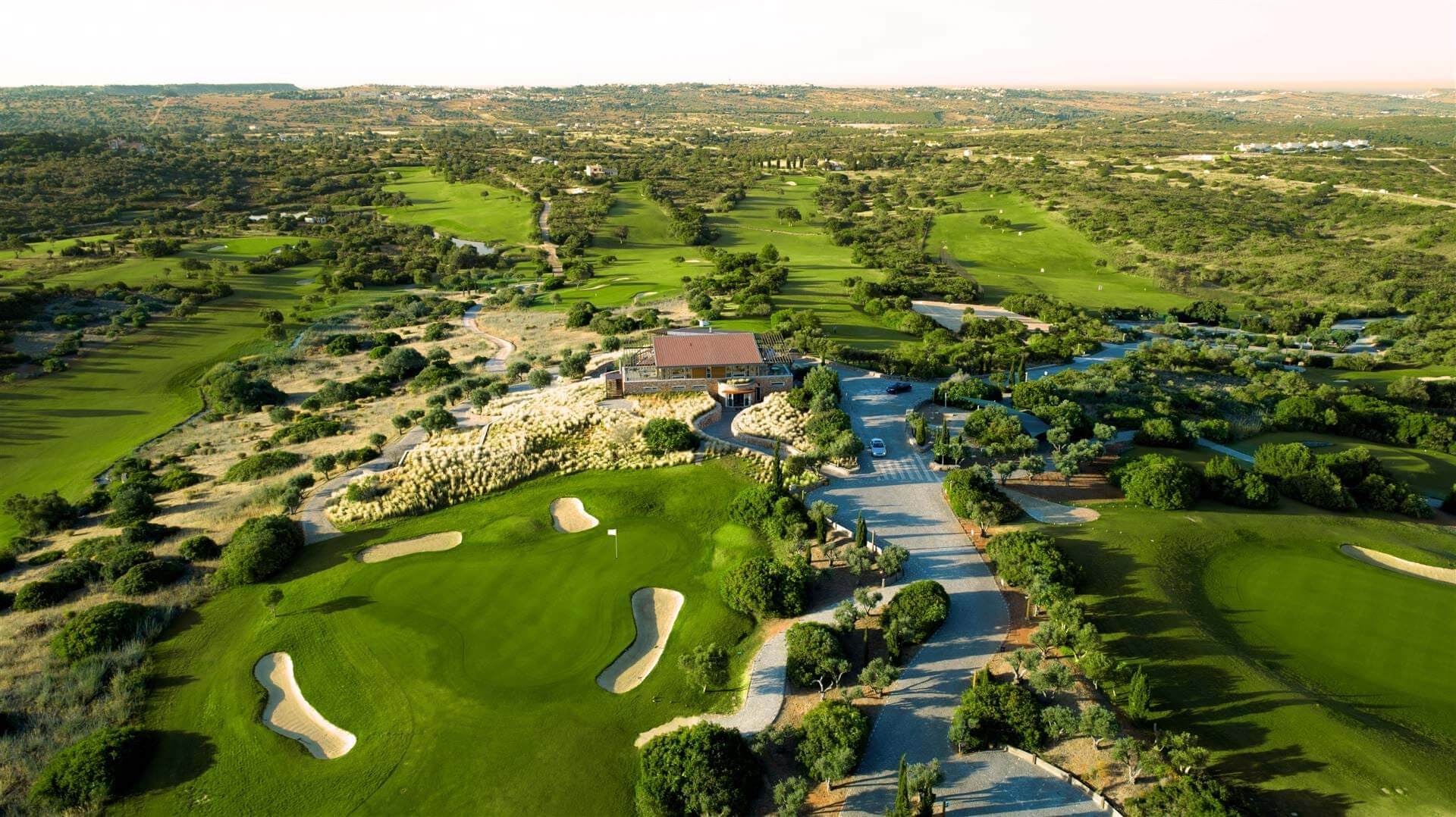 Espiche Golf with it's design by Peter Sauerman really stands out among other golf clubs in Algarve. It takes pride in being one of the eco-friendliest in the region - the way that the course is structured aims to enrich and preserve the biodiversity in the area. Friendly and helpful staff, wonderful views and well-planned obstacles – that is what makes Espiche Golf a real pleasure to play on!
Book tee times: https://greenfee365.com/golf-course/espiche-golf
Where to eat in the nearby area?
Restaurante Gecko (Espiche Golf Clubs own restaurant) – With the beautiful view over the golf course and luxurious interior you can enjoy a menu based on a farm-to-table approach, where they emphasizing the use of seasonal ingredients from nearby family farms, vineyards, village markets and local fishermen.
Sunitas Castle – If you're craving some Indian food you should definitely take a visit to Sunitas Castle located at R. Canelas 16, Luz. With it's mesmerizing aura this restaurant offers every variety of food available in the Indian taste at its best.
And of course you can find a selection of good restaurants by the beach such as A Fábrica and Saffron
3. Boavista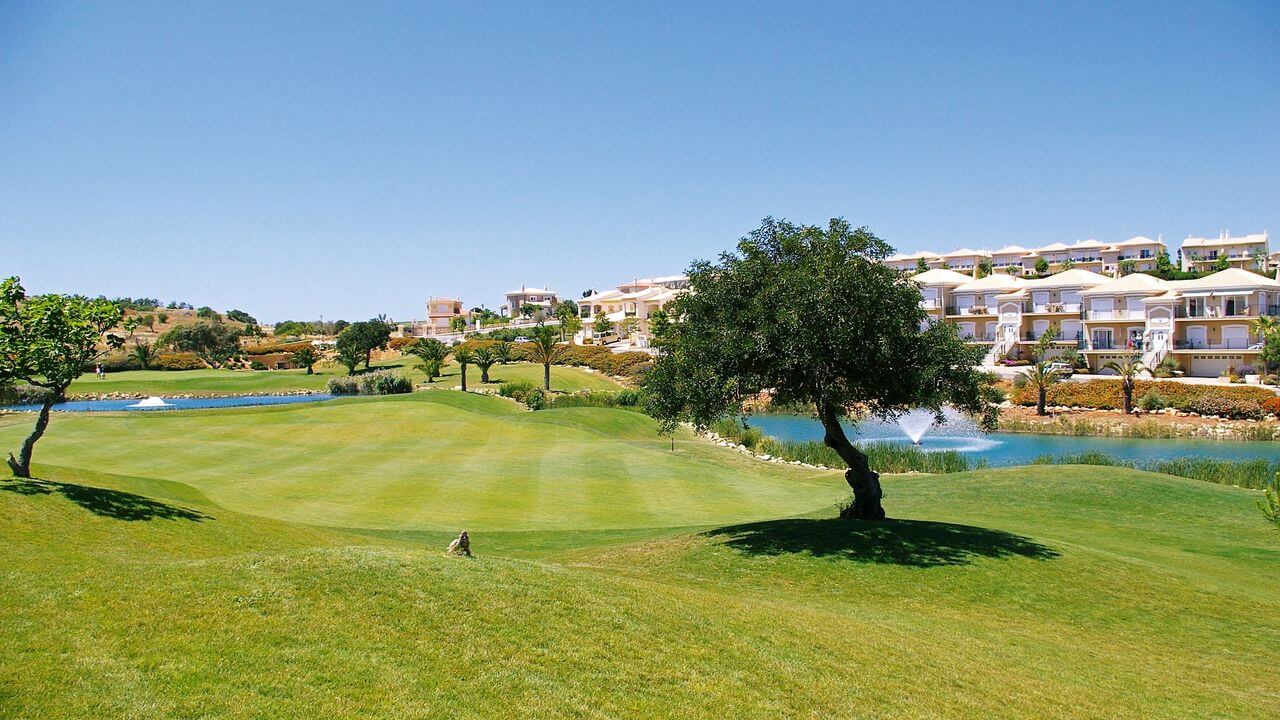 Boavista Golf & Spa Resort is a modern golf course located a short drive away from Lagos. What makes it stand out from the crowd is an interesting layout – the course is quite hilly, so a buggy is recommended. The first nine holes go up to the highest point of the golf course. The second half of the course will challenge you with various water hazards and terrain undulations. Here is spectacular views from almost every hole guaranteed!
Book tee times: https://greenfee365.com/golf-course/boavista-golf
Where to eat in the nearby area?
Casa do Pintor – Located at Largo de Santa Maria da Graça 15, a couple of minutes from Castelo de Lagos you'll find this small but cozy restaurant. The decor is beautiful and the food is of high quality from chefs with long experience.
Amorizade – This is a French restaurant a couple of blocks from the beach. Here you'll be met by familiar atmosphere and excellent service. Amorizade is located at Av. Fernão de Magalhães
4. Palmares Golf Course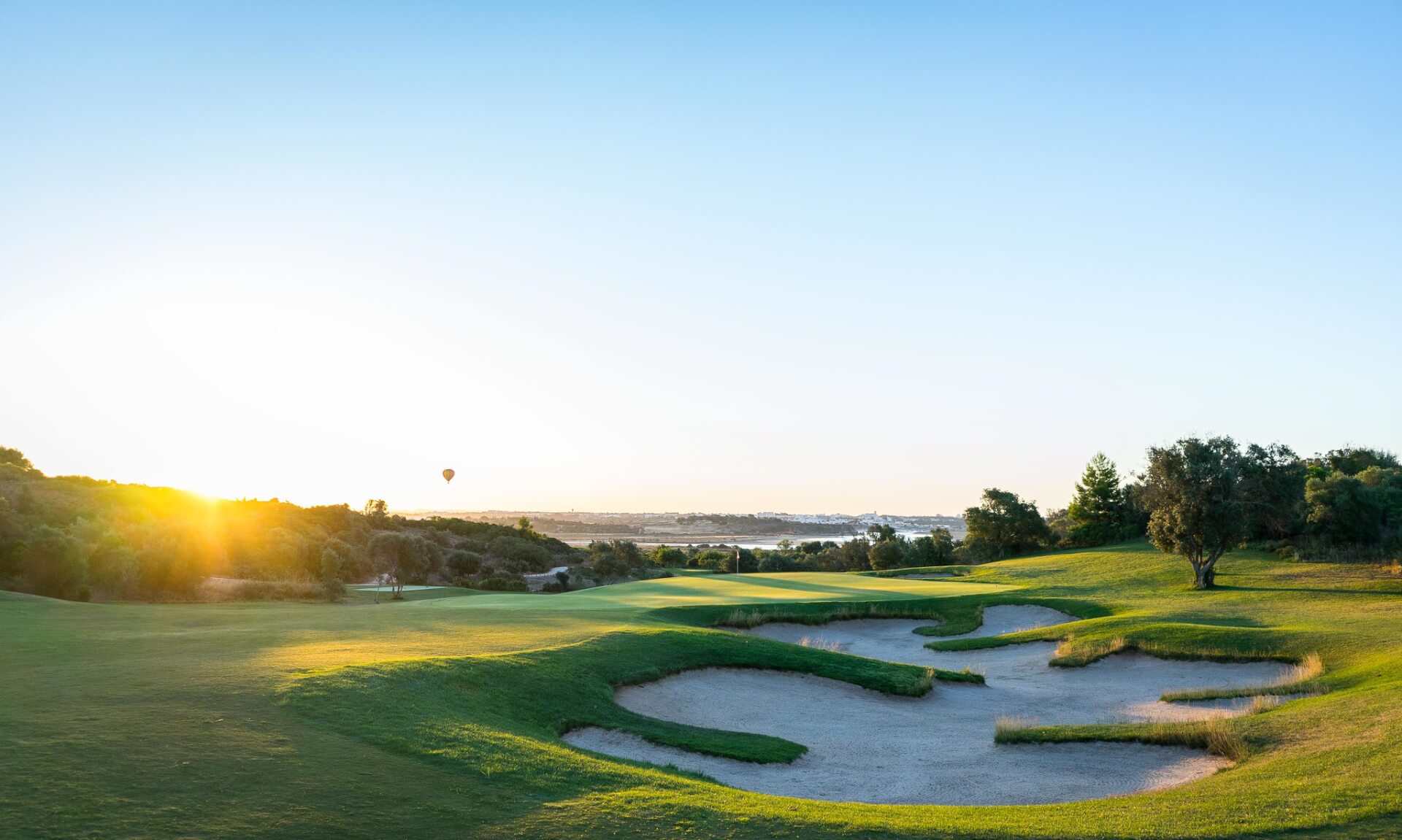 Welcome to one of the most attractive golf destinations in the region Algarve! Palmares golf course has everything that you look for when you plan your next golf holiday: fantastic undulating greens, three 9 hole loops that can be played in any order and spectacular views over the beach and the ocean. Couldn't ask for more!
Book tee times: https://greenfee365.com/golf-course/palmares-golf-course
Where to eat in the nearby area?
Bar Quim – Located right on the beach Meia Praia you get the perfect summer experience at Bar Quim. This place is perfect for both lunch and dinner as well as just a drink or two. Enjoy the sound of the ocean while gazing out over the amazing beach view. You'll find Bar Quim at Q.ta da Praia 15.
Restaurante Jardim – This lovely garden restaurant, open March to November, offers traditional Portuguese food as well as homemade pizzas and seafood. You'll find Restaurante Jardim close to the beach at R. Jardim da Meia Praia.
5. Penina Championship Course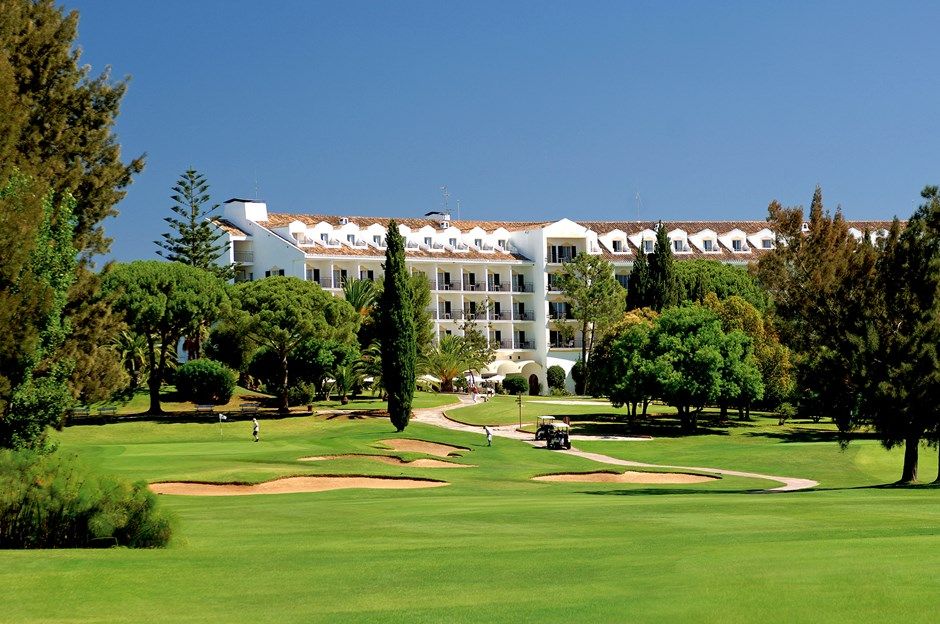 Designed by Sir Henry Cotton, three times British Open Champion, Penina Championship Golf course does not stop attracting golfers from all over the world since it was opened in 1966. The course is unpredictable and challenging – players will face water hazards and streams as well as slopes and elevated greens. Penina Championship Golf Course truly is one of a kind!
Book tee times: https://greenfee365.com/golf-course/penina-championship-course
Where to eat in the nearby area?
Caniço Restaurant – With its beautiful location right by the Prainha cliffs, the Caniço Restaurant serves a great combination of fish and seafood, always using fresh products, influenced mainly by southwest Mediterranean cuisine. One of the musts of Caniço is its exclusive elevator that transports you between the cliffs to the restaurant. A 12 minute car ride from the golf course you'll find Caniço Restaurant at Aldeamento da Prainha.
Ruccula – In the city centre of Alvor you can find a large selection of good restaurants but one of them worth mentioning is Ruccula. With the menu inspired by traditional Portuguese and Mediterran food you'll enjoy something above the usual at this place. Pro tip: Book your table far in advance, this restaurant is popular and often fully booked.
6. Pestana - Vila Sol & Gramacho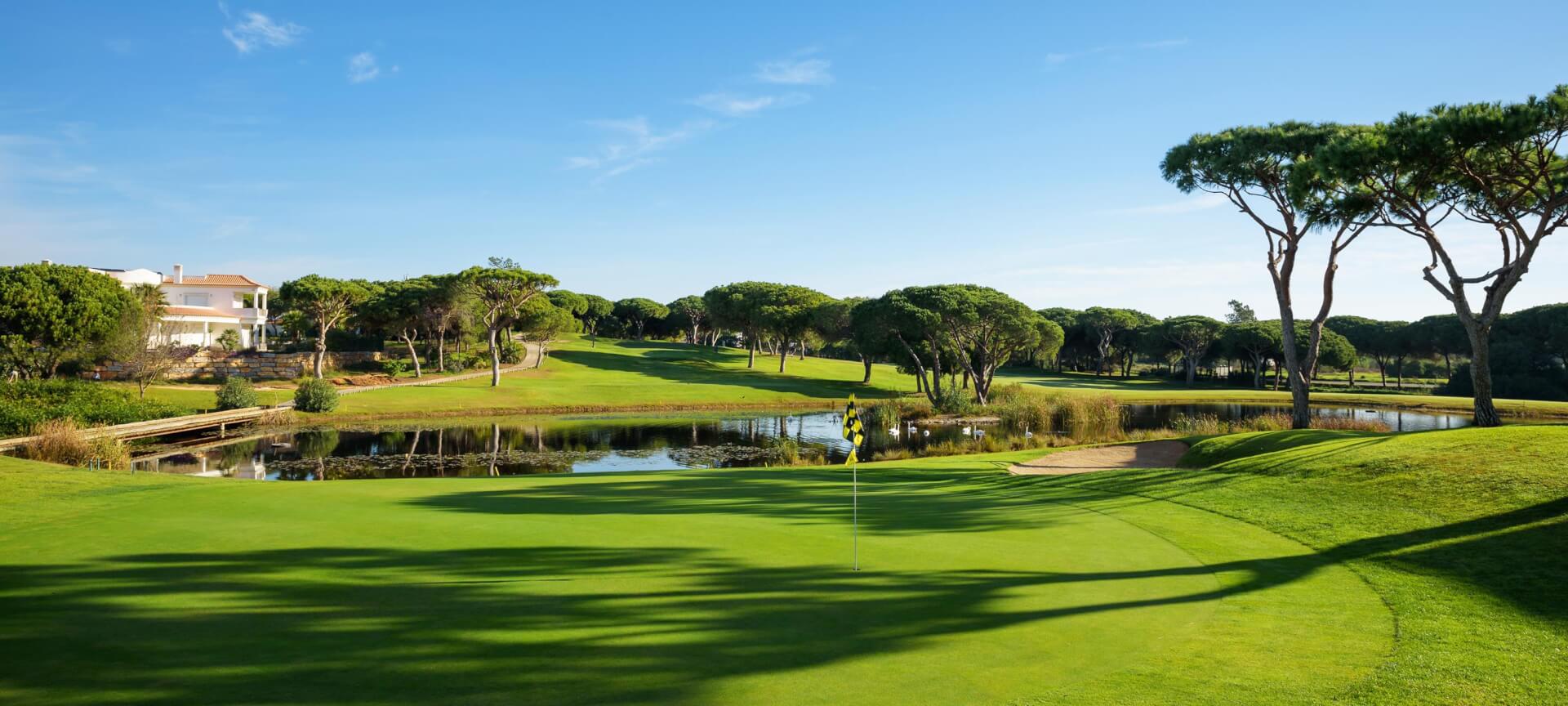 Vila Sol – the prestigious 18-hole championship course with Donald Steel design, will not disappoint. Vila Sol offers well-maintained greens designed to preserve the natural layout of the terrain. Apart from tricky yet enjoyable greens, golfers can count on fantastic service that will make your visit to Pestana Vila Sol unforgettable!
With 18 interesting holes, strategically placed obstacles and well-preserved flora, Gramacho offers more than just a round of golf – it is a wonderful experience that stays in golfer's mind long after the last shot.
Book tee times: https://greenfee365.com/golf-course/pestana-vila-sol & https://greenfee365.com/golf-course/pestana-gramacho
Where to eat in the nearby area?
Moon Restaurant & Cocktail Lounge – Located at the edge of Vila Sol Golf Resort, at Urbanização Vila Sol, overlooking the 6th. green of the Pestana Vila Sol Golf Course you can expect a unique dining experience with luxurious atmosphere in both dining room and the beautiful garden. The Moon uses only the highest quality local ingredients, and their menu is based on a Mediterranean theme with international influences.
La Villa – At R. de Volta do Anzol 7 you'll find the French restaurant La Villa. Here you can enjoy both lunch or dinner in a beautiful garden environment or inside with simple, yet sophisticated interior. This place is said to be one of the wow spot if you're in Vilamoura.
7. San Lorenzo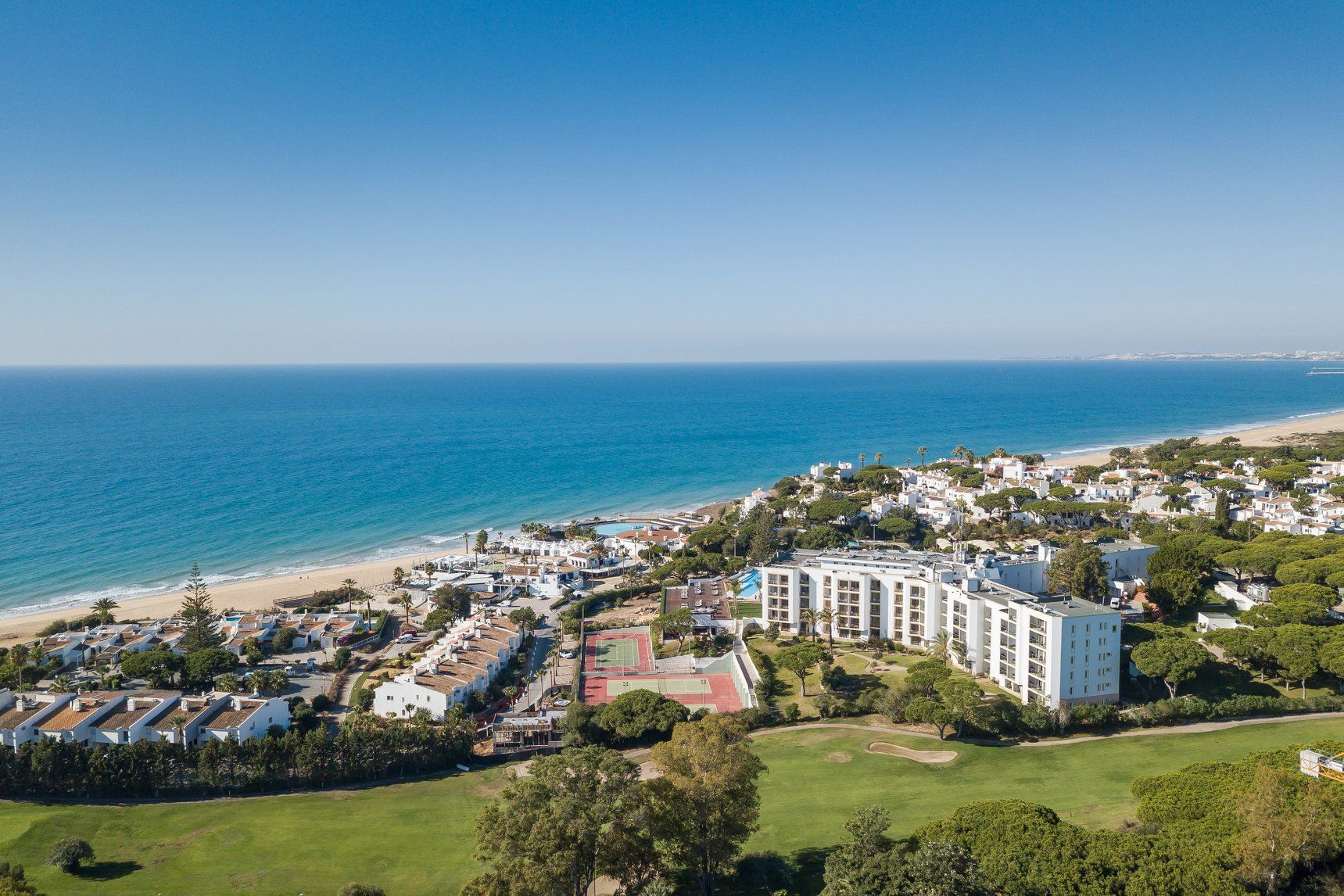 San Lorenzo Golf represents the highest standard and the best quality among golf courses. It's not without a reason it's called one of the best in Portugal and in Europe. The course offers undulating fairways in an excellent condition and rewards you with magnificent views of the sea. Even though the first few holes might seem easy, the course reveals itself in full glory as you progress. Get ready for the fantastic views from the last hole!
Book tee times: https://greenfee365.com/golf-course/san-lorenzo
Where to eat in the nearby area?
Bovino Steakhouse – An obvious mention nearby San Lorenzo Golf Course is Bovino Steakhouse. In a bespoke setting, created by one of Europe's most acclaimed designers, Bovino combines modern interiors with cooked-to-perfection food to produce the most exclusive steakhouse experience you can have in the Algarve. Bovino is located at Quinta do Lago, Roundabout 6, Rua Formosa, Quinta do Lago.
Dano's – At Av. Ayrton Senna this sports bar is located, and it's probably the most stylish sports bar in all Algarve. Dano's is actually in the same restaurant chain as Bovino, and 2019 Dano's was named winner of Algarve's Best Bar & Restaurant by LUX Life Magazine. Their menu has been created using the finest local, seasonal Portugueses products to ensure freshness and quality on every plate. With the barn-inspired interior, light-filled space and Portuguese inspired detailing Dano's is in a league of its own.
8. Troia Golf Championship Course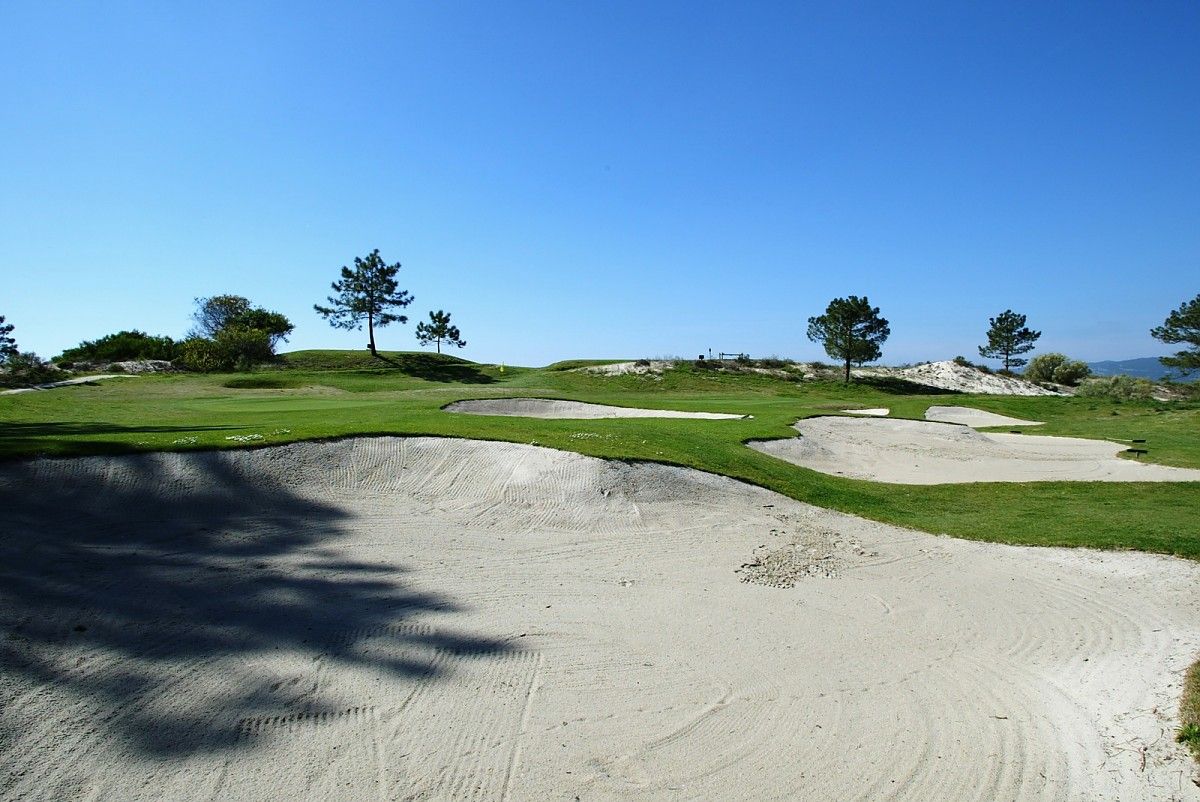 In the heart of the Troia peninsula, you'll find one of Portugal's most engaging and challenging golf courses, the Troia Golf Championship Course, voted one of Europe's best 20 resorts by Golf World magazine in 2018. Unwind in this 6-hectar, 18-hole and par 72 golf course alongside the beach with a dazzling view of the Arrábida Mountain. Regardless of your handicap, the Robert Trent Jones Sr. course is ideal for improving your technique and for expecting the best performance and the best results.
Book tee times: https://greenfee365.com/golf-course/troia-resort
Where to eat in the nearby area?
Restaurante Club House – So the closest food you can get if you play at Troia Golf Championship Course is os course their own Club House. The Club House offers the possibility to enjoy a delicious meal with the lake as a backdrop, which is in perfect harmony with the surrounding nature.
El Cristo – This is a seafood restaurant perfectly located overlooking the marina on the Troia peninsula. This is a must-try for seafood lovers in the area. At El Cristo you'll be met by familiar atmosphere, good service and amazing food.
Decor & Salteado – This restaurant with relaxing and modern interior you'll find a ferry ride over to Setúbal at Avenida Belo Horizonte 226. At Decor & Salteado you'll be served Mediterranean- and Portuguese inspired food. Here you can enjoy your meal with carefully selected ingredients with a wonderful view over the Setúbal bay